Award Winning
Lumina Shutter Facts
Patent pending lighting louver technology reduces energy consumption and provides consistent, reliable illumination.
Google Assistant Compatible*
Smart Life App Controllable*
One touch – full brightness. Each successive touch produces a dimming effect down to night light mode, and finally off. Engage Sunrise and Sunset modes with a gentle touch.
Lumina Shutters are constructed with high quality components, resistant to UV damage and fading, built for strength and durability. The 3.5 inch water resistant slats provide clear window views when open and are easy to clean and dust. Each lighting slat operates at very safe, extra low voltage.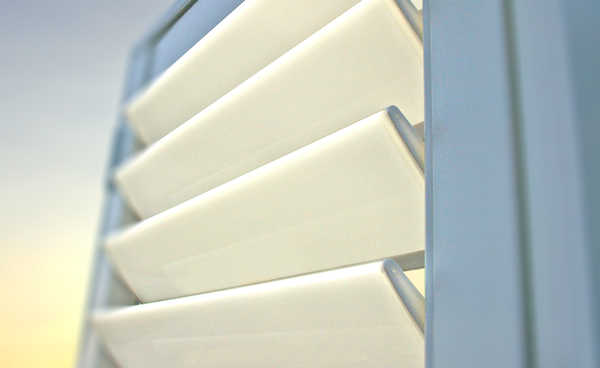 Frequently Asked Questions
How much electricity do they use?
Roughly 4 watts per square foot at full brightness. If your window opening is equal to the national average 22 square feet, then it will consume about 88 watts of electricity at maximum brightness, or 44 watts at half brightness.
Do Lumina Shutters get warm to the touch?
Lumina slats are energy efficient solid state, flat lighting devices and produce no noticeable heat, even at maximum brightness.
Will they also darken my room when necessary?
Yes! Lumina Shutters provide room-darkening management of sunlight. Each slat maintains full opacity, closing completely against the next to reflect transient light away from the window. The hidden rear tilt system provides a clean, open view and additional light control between the slats and shutter frame. Adjust the degree of tilt simply by touching one of the slats.
How will my custom shutters be delivered?
Lumina Shutters are carefully packaged and shipped directly to the address where your shutters will be installed.
How are they installed?
Installation is no different from that of a typical window shutter. Consideration should be made as to where panels will be plugged-in after installation is complete. Each shutter comes with a small power supply that fits easily and invisibly behind the shutter panel and plugs into a standard 120V AC power plug. Power receptacles can be installed inside window casings for a truly cordless view, or on the wall anywhere within about six feet of the shutters.
What if my shutters get damaged?
Some minor repairs can be taken care of on-site by a homeowner or installer without the removal of the shutter panel. If the damage is more serious, your shutter panel may need to be removed and shipped for repair or replacement. In most cases, panels are removed simply by unplugging the power adapter and removing the hinge pins.